The Importance of Responsive Web Design - UX, Mobile-First Indexing and More
There's been a lot of talk over the last few years about responsive web design. You've probably heard time and time again about what responsive websites are and how you need to make sure your website is mobile-friendly. But why? What are the advantages of having a fully responsive website?
Google changed their algorithm to include mobile-friendliness as a ranking signal (affectionately nicknamed Mobilegeddon) back in 2015, which, for us, was enough in itself to explain the importance of responsiveness.
But if you're still unclear on what the benefits are, let's dive in...
Enhanced user experience
I'd argue that the main reason you should have a responsive website is user experience (UX). You want to offer your customers a great experience in-store or in person, so that sentiment should extend to your website too.
Often, on an unresponsive site, you can run into problems with the text being difficult to read, requiring users to zoom in and scroll horizontally just to read your content. Or links and buttons may be too small to click, meaning that your visitors might not always be able to convert - even if they want to.
These scenarios are not providing the seamless UX that mobile users now expect from the sites they visit, which might be a costly problem for you. While the individual issues may seem quite small, they could be seriously damaging your conversion rate.
And when you consider that over 60% of searches come from mobile, having a website that is specifically designed to adapt to different screen sizes and enable an easy customer journey seems like the natural choice.
Why not a separate mobile site?
This is a question we hear a lot - why should you choose responsive design over a separate mobile site? And it's understandable. Mobile sites are fine. And, historically, as mobile usage increased, a lot of companies were building supplementary mobile sites to sit alongside their 'main' websites.
But the idea that mobile sites are secondary to desktop isn't how we like to approach development - and Google have even cited responsive design as their recommended design pattern. However, there are a few more reasons why we recommend building a responsive website over a separate mobile site:
Easier to manage:

This is more of an advantage for you than your customers, but it can be a big one. If your mobile site is separate, whenever you want to create a new page or make changes to your existing content, you'll need to spend more time updating everything twice. Add to this submitting two separate sitemaps to search engines and monitoring analytics on two separate accounts and it can become a chore. A responsive site means you only need to do each thing once, making managing and updating your website much easier.


Google's mobile-first index: Introduced earlier this year, Google's mobile-first index is, essentially, exactly how it sounds. Up until now, Google typically used the desktop version of a site for indexing and ranking, but to better meet the needs of their, primarily mobile, users, that's all changed. Google will now primarily use the mobile version of a website for indexing.



Of course, if there is no mobile version, the desktop version will be indexed. But with the announcement that search results will show URLs that are most appropriate for the device a user is using, it's probably safe to assume that if you don't have a mobile-friendly site, it could negatively impact your search rankings in favour of other websites that offer a better mobile experience.



For more information, you can read Google's best practices for mobile-first indexing

here.
Consistency:

Digital strategy is all about an omnichannel approach now. Users move freely between devices, so there's a good chance that they'll see your website on two or more different devices at some point (maybe all in one day). When they do, a responsive website will ensure that they receive a consistent brand experience at each visit.

Responsive design will also ensure consistency in content. As mentioned above, because it would require you to update and manage multiple sites, having a separate mobile site can mean more potential for inconsistencies in text and images, meaning that your customers may find different (or outdated) information when they visit your website on different devices.
So who's doing it well?
If you're still not convinced about responsive design, here are some of our favourite sites that really get it right when it comes to UX on mobile. Some we built, some we didn't, but take a look around (preferably on your phone to get the full experience) and you'll see how great responsive websites can be.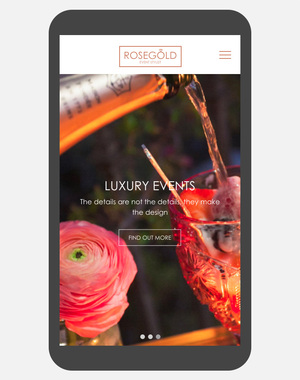 Rose Gold Events
Rose Gold Events are luxury wedding and events planners - they take care of every aspect of an event to create an unforgettable experience.
Sophistication, exclusivity and professionalism, as well as their close attention to the finer details, needed to be conveyed in every aspect of their online presence. So once we had the perfect design, our top priority was making sure that Rose Gold's website offered a consistent, luxurious feel across all devices.
https://www.rosegoldevents.co.uk/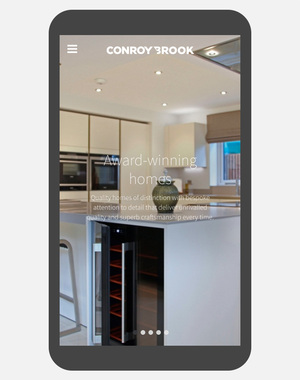 Conroy Brook
Conroy Brook is an established, award-winning property developer with a reputation for delivering high specification, craftsman-built homes throughout Yorkshire.
Although most house sales are initiated through other channels such as Rightmove, Conroy Brook's own website was essential for reinforcing their ethos and the unrivalled quality of their homes. Responsive design enabled us to make the most of their strong imagery, typography and messaging both on desktop and mobile devices.
https://www.conroybrook.co.uk/
World of Wool
Over the last 10 years, World of Wool has grown into the go-to place to buy wool and fibre, supplying their products to crafters in over 60 countries.
Because of the high volumes of products World of Wool offer, it was essential that their eCommerce site was as easy to navigate and use as possible. Through a clearly defined mobile navigation and additional search functionality, we made sure that you could find the product you're looking for quickly. And custom apps (such as the custom blend maker) were designed with accessibility and ease of use across all devices in mind.
https://www.worldofwool.co.uk/
Adidas
Adidas' website offers a consistent experience across both their desktop and mobile sites, led by bold imagery and typography. Menus and CTAs on mobile are presented with large touch targets to enhance UX and keep the site easy to navigate across all devices.
Bang & Olufsen
B&O's website is designed to reflect their high end, sleek brand identity, and responsive design ensures that this is presented to users accessing their website on all devices.
Both desktop and mobile versions of the site have a consistent minimalistic look and feel. Clear, well-positioned CTAs provide an easy to navigate route around the site.
BMW
As with the previous sites, collapsable menus and search functionality allow easy navigation through BMW's website on both desktop and mobile devices. But bold CTAs on the homepage, prompting users to look for a new car, a used car, or access customer support, are effective in streamlining the customer journey and allow users to quickly access the most relevant pages of the website.
If you're looking for more information and advice on your website build or redevelopment, contact our web development team through our lovely, responsive site, or give us a call on 01484 30 20 10.